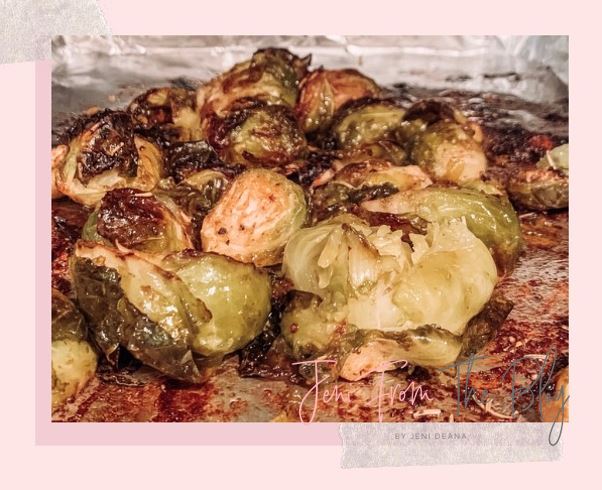 Since we began social distancing, I've noticed myself distancing from good habits. From a consistent workout routine, to a healthy diet. These things have always been such a focal point in my daily life. It's hard to imagine that I'd ever feel so lost. If you're feeling the same, I'm here to tell you, you are not alone!
It's to easy to get off track. During times of high stress, anxiety and uncertainty, it's only natural. Many of us resort to food to cope with these emotions. Often we retreat from good habits such as daily exercise. If you've felt this way, you are not alone!
I'm also here to help you get back on track! Let's do this together! I need the motivation too! Here's one of my favorite side dishes. It's a healthy, delicious, fiber filled Brussels Sprout recipe.
This isn't my first rodeo. I've made them for years now and it took me a while to get it right. Sometimes they had turned out too bland, too hard or too soft. Now that I've figured it out, I want to share with you!
These crispy, sweet and savory Roasted Honey + Balsamic Brussels Sprouts will have you sprouting with love!
Hope you enjoy! and Stay healthy & safe my friends!
With Lots of Love, today + always xo Jeni Deana
Ingredients:
1 lb Brussels Sprouts (cut in halves)
1 tablespoon of honey
1 tablespoons of balsamic glaze
1/2 teaspoon crushed black pepper
1 teaspoon Himalayan Salt
1- 1 1/2 teaspoon garlic powder
1/2 teaspoon rosemary
1/2 teaspoon oregano
2 tablespoons melted butter
3 tablespoons olive oil
Prep Time: 10 minutes
Total Time: 45-50 minutes
Directions:
Preheat oven to 400 degrees F.
In a large ziplock bag (1gal) or Tupperware mix all dry seasonings.
Combine olive oil, melted butter, honey and balsamic glazed to bag filled with seasoning (shake).
Add Brussels Sprouts to bag and shake and move around for 3 minutes until completely covered.
If time permits let sit for 10-15 minutes.
Add Sprouts to baking sheet (foil lined for easy clean up)
If they seem dry, add more olive oil and balsamic glaze.
Bake for 35-40 minutes flipping over occasionally.
Health Benefits:
Rich in Antioxidants
A 1/2 cup can provide about 81% of your daily Vitamin C needs. This is great for a healthy immune system.
High in fiber, great for digestion.
Honey contains natural antibiotic.