(Gluten-Free + Paleo)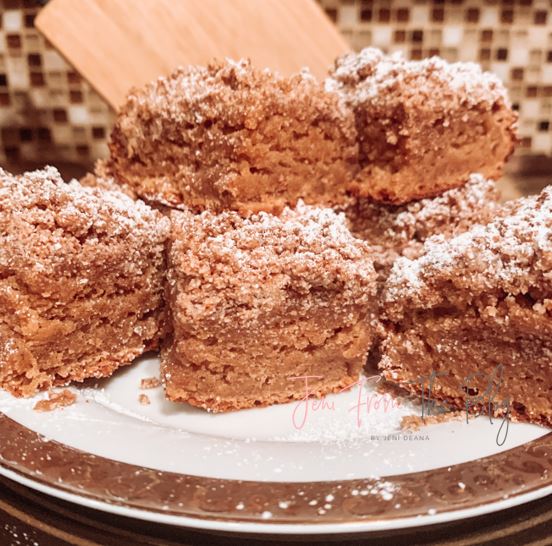 Since this Quarantine began, you almost can't scroll through instagram without coming across a Banana Bread post! It's what inspired me to create this healthy twist on the classic banana bread. As a mom to a wild and energetic toddler I sure do love my c o f f e e! What could be better, combining the two! Coffee Crumb Cake + Banana Bread.
That's where this amazing recipe came about. I searched the web for some inspiration and combined a few recipes to come up with this one. It was a hands down winner in our house. My husband was utterly shocked that it didn't contain any butter or white sugar!
For those who had responded to my pole, I didn't forget about you! Next on my baking list are banana cookies! Those of you who preferred the not so healthy version of this, simply swap out the coconut oil with butter and flour substitutes with white flour. Without further ado, I'll get right to it.
Ingredients
Cake:
2 cups Almond Flour (or meal)
1/2 cup Tapioca Flour
1/2 cup Coconut Sugar
2 Large Eggs 
1/3 cup melted coconut oil
1 teaspoon baking powder
2 teaspoons cinnamon
1 cup mashed banana (about 2-3 bananas) 
Crumb Topping:
2 tablespoons melted coconut oil
1/2 cup + 2 tablespoon almond flour
2 tablespoons of coconut sugar 
1 teaspoon cinnamon 
Prep Time: 15 minutes
Cook Time: 30-35 minutes
Serving Size: 12 pieces (sliced L 4 x W 3)
Directions
Preheat oven to 350 F
In an 8×8 baking dish line with parchment paper or grease with coconut oil.
In a large bowl or mixer, whisk together oil, sugar, eggs and mashed banana.
In a separate bowl mix the dry ingredients (flour, baking powder and cinnamon).
Slowly mix in the dry ingredients until combined well.
Add to baking dish.
Mix crumb topping in small bowl. Should form a crumbly mixture.
Sprinkle on top of cake batter until covered.
Bake 30-35 minutes. Use toothpick or fork to make sure it comes out clean.
Slice and Enjoy! (Optional- I added some powdered sugar on-top, that part is not Paleo).
Note: As mentioned, you may supplement the coconut oil with butter, flour with white flour and sugar with white sugar if you want the classic coffee crumb cake. I have not tried it this way, so I can't vouch for it, but I'm sure it would be tasty as well.