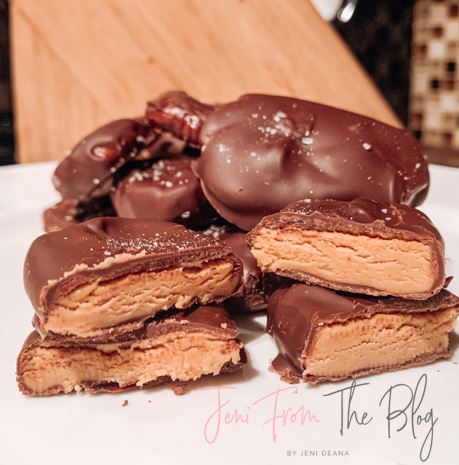 What's your favorite Candy? Mine has always been Reese's Peanut Butter Cups and Reese's Pieces. I just love the combination of PB + Chocolate. What's not to love?
I've been keeping myself busy lately by experimenting with healthy, homemade ways to satisfy my sweet tooth. That's when I discovered this healthier alternative. Believe it or not there are more than 20 ingredients on the label of these store bought treats. My rule of thumbs is, the less ingredients the better. The more ingredients, the greater the likelihood there are preservatives and other artificial additives. If I can't pronounce the words in the ingredients, I try to steer clear.
That's when I discovered this recipe, which contains as few as 5-6 ingredients. Even better, they taste just like "The Real Thing". Celebrating Easter, Passover, or simply just have a love for Reese's? I'm pretty sure you are going to enjoy these delicious treats!
Ingredients:
1/2 Cup Creamy Peanut Butter
3 Tbsp Maple Syrup
6 Tbsp Tapioca Flour (or Almond Flour)
1/2 cup Chocolate Chips (dark, semi-sweet or milk)
1 tsp Coconut Oil
1/2 tsp Pink Himalayan Salt or Sea Salt (optional)
Prep Time: 15 minutes
Freezer time: 30 minutes
Directions:
Mix Peanut Butter, Maple Syrup, Flour & 1/4 tsp Salt.
Form into egg shape.
Place on plate lined with parchment paper. Freeze for 20 minutes.
Melt Milk Chocolate and Coconut oil in the microwave 1.5 minutes (stirring every 30 seconds).
Dip Eggs into chocolate, place back on plate lined with parchment paper.
Freeze an additional 10 minutes.
Sprinkle Sea Salt on top. Serve & Enjoy!
Thanks for reading! Love hearing your feedback! Feel free to comment below.
Stay Safe!
With Lots of Love, today + always xo Jeni Deana