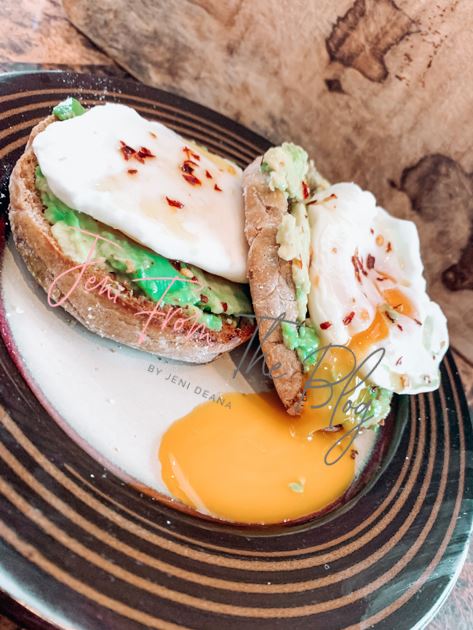 Brunch, an opportunity to sleep in late + eat breakfast + drink bottomless Mimosas or Bloody Marys. What's not to love? Never been much of a drinker (boring, I know), but there's something special about the combo of breakfast food, champagne and OJ and chatting about the night before with your girlfriends, that is so refreshing on a Sunday morning!
One of my favorite Brunch choices on the menu has always been Eggs Benedict. Something about the fluffy egg, with yellow yolk running slowly onto a toasted English Muffin always makes my mouth water. My brain felt scrambled with the idea of making poached eggs myself! However, I'm here to tell you, YOU CAN DO IT!
As a new Mommy, my "Boozy Brunch" days are definitely on the back burner. Luckily, I have a front burner. It's there I've learned to make my very own, what I like to call the 'Perfect Poach Avocado Toast'.
Here's my healthy spin on an Eggs Benedict you can do at home in under 10 minutes. Vegan? Skip the poach and replace it with a vegetable like tomato. Gluten Free? Supplement with your favorite GF bread. Can't get enough Bacon? Try a few slices of Turkey Bacon. Hope you enjoy this recipe as much as I do!
Side note, I've been thinking about testing out a Hollandaise sauce. Please leave your feedback below in the comment section if this is something you'd like to see on a future blog post =) I truly appreciate any and all feedback <3
Ingredients
1 Whole Wheat English Muffin
(toasted)
½ Avocado
1 Slice of Lemon
1 Tsp EVO- Extra Virgin Olive Oil
2 Poached Eggs
2 Spins per toast of Himalayan Salt
Sprinkle of Crushed Red Pepper
Directions
1. Fill sauce pan with 2/3, on HIGH heat. Bring to steady boil.
2. Toast English Muffin to your liking.
3. Crack egg with yolk into a Mesh Stainless Steel Ladle Spoon. Catch excess in a paper towel or plate. If you do not have this tool, crack egg in a very small bowl or cup (preferably 3-4 inches in diameter).
4. Gently place egg one at a time into boiling water.
5. Immediately reduce heat to LOW or SIMMER. Cover and set timer for 3 minutes.
6. Scoop out avocado and spread on toasted English Muffin. Squeeze lemon on top. Drizzle tsp of EVO.
7. Remove your Perfect Poach with a slotted spoon. Place on Avocado Toast.
8. Sprinkle toppings, Crushed Red Pepper and Himalayan Salt. Sip on your Mimosa, OJ or coffee + Enjoy!

Video demo is up on my Instagram (IGTV- @jenifromtheblog_)
Health Benefits
<3 Eggs are a great source of protein
<3 Avocados contain more potassium than bananas + heart healthy fatty acids (the 'good fat') + fiber great for digestion.
<3 EVO, high in Omega-3 fatty acids
<3 Himalayan Salt is a great alternative to table salt. Did you know table salt is bleached white? Himalayan salt contains approximately 84 minerals one of which includes iron which gives it, its beautiful pink color.