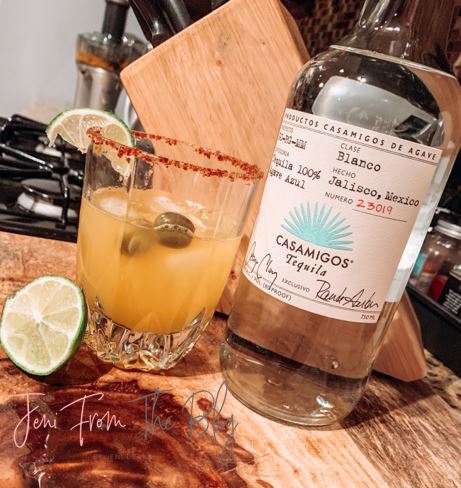 Feliz Siete De Mayo mis amigos y amigas! Translation, Happy May 7th my friends. Fun fact, I speak fluent Spanish in a very American accent. Who knows what day it is anyways? It's never too late for a tasty tequila recipe.
I sent my lovely, partially willing, mostly convinced husband out to grab me some tequila the evening of Cinco De Mayo. I was determined to celebrate in my own little way with this mixed drink. As you can see I was short the key spicy ingredient a.k.a jalapeño. However, I made do just as you can if you don't have all the ingredients below!
Before I dive into this delicious drink, you know me… I have to share the awesome health benefits of this alcoholic beverage.
Health Benefits:
#1 Healthiest alcohol right above red wine.
Agavins, the natural sugar found in tequila are non-digestible. They act like fiber, therefore do not raise blood sugar levels.
Lower cholesterol.
In moderation, this alcoholic beverage is a great addition to a healthy & balanced lifestyle. 
Ingredients:
3 tbsp or 1 shot of Tequila (I prefer Casamigos)
2 tbsp orange juice
3 tbsp lime juice
1-2 tsp honey
4-5 ice cubes
If you would like to see a video of this recipe, head to my instagram under IGTV. 
Hope you enjoy this recipe as much as we did! Thank you for reading! xo- jeni deana