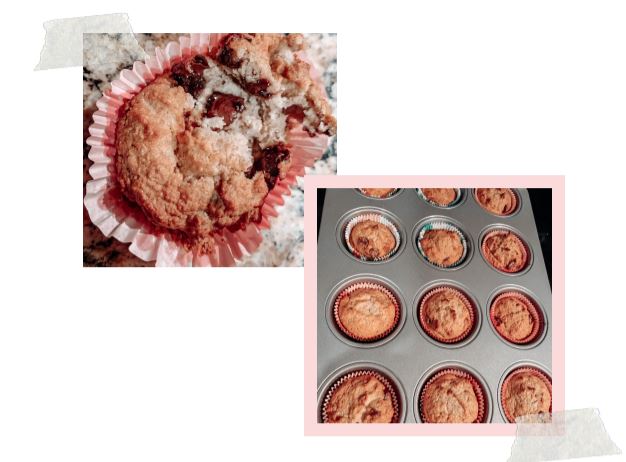 If you are looking for a healthier version of muffins, you've came to the right place. Lately, I've been exploring tons of recipes using flour substitutes like; Almond Flour and Tapioca Flour. These are considered Paleo and/or Gluten-Free. If you are not familiar with these "trending" nutritional or dietary terms here's a quick overview:
Paleo:
Foods obtained from hunting and gathering.
Unprocessed food
Includes lean meats, fish, fruits, vegetables, nuts and seeds.
Gluten-Free:
Found in wheat, barley and rye.
Common diet for those with Celiac Disease or those with gluten sensitivity.
Although, our family does not have any food allergies or dietary restrictions that I know of, I've chosen to swap out white flour for an unprocessed alternative. As a Mommy, I try to make sure the least amount of chemicals are going into my little one's belly. It's comforting to know I don't have to deprive my son of sweet treats, but that I can prepare a healthy yet tasty version of them. I hope you can share this with your family as well!
Just about everyone has made Banana Bread during the Quarantine. If you haven't personally, I'm sure you know somebody who has. Not sure if it was the stocking up of bananas or sheer boredom that inspired so many of us to become "Banana Bread Bakers". If you've seen my earlier post, I shared our family favorite, Banana Bread Coffee Crumb Cake. I must have made about 7 batches. I decided to switch it up, leading me to this simple muffin recipe. It's easy and great on the go especially with a toddler. So without further ado, here's my Almond Flour Banana Muffins.
Ingredients
3 Ripe Bananas (the browner the better)
3 Large Eggs
1 tsp Ground Cinnanmon
1 tsp Pure Vanilla Extract
1 tsp Baking Soda
1/2 tsp Baking Powder
1/4 tsp Salt (I use Himalyan)
3 Cups Almond Flour
1/2 Cup Blueberries, Nuts, Dark Chocolate or Semi-Sweet Chocolate Chips.
Prep-Time: 10 mins
Cook Time: 30 mins
Serving: 18 Muffins
Directions
Preheat oven to 350 F.
Grease inside of liners or tray with coconut oil or spray.
Combine bananas, eggs, vanilla, cinnamon, baking soda & powder and salt until smooth (using mixer, blender, food processor or by hand).
Add Almond flour and mix until combined.
Add chocolate chips, blueberries or nuts and combine (if adding blueberries use spatula or spoon to avoid breakage).
Pour into baking tray. Bake for 30 minutes or until golden brown. Test with toothpick or fork, should come out clean. Let cool & enjoy!
Note: Chocolate Chips may not be considered Paleo unless specified. 
Calories: approx. 200 per muffin
Thank you for reading! Please drop a comment below. Your feedback truly helps!
With lots of love always xo Jeni Deana